Where History Happened: The Hidden Past of Australia's Towns and Places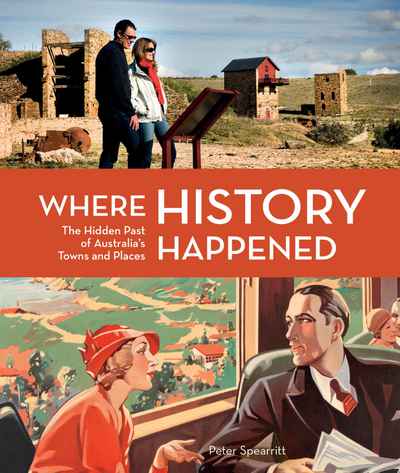 Paperback | Sep 2018 | National Library of Australia | 9780642279262 | 232pp | 250x210mm | GEN

Do you know which desert town is home to one of the oldest mosques in Australia and the site of one of the trade union movement's most significant victories? You might have visited this iconic surfer's paradise, but did you know Byron Bay was once a rough industrial town, thronging with the sounds and smells of mineral sand mining, a piggery and a thriving whaling station? Where would you go to experience the great age of steam, to see and hear functioning locomotives that tell the story of Australia's railways?
Where History Happened reveals the hidden past of some of Australia's most intriguing towns and places, from mining settlements and remote caves to monuments and historic houses in our capital cities. The stories that emerge, of remote religious communities, isolated penal colonies, places of Indigenous incarceration and environmental degradation and rejuvenation, describe a vast and complex country, with a heritage worth preserving. The book contains beautiful images from the collections of the National Library of Australia, including works by renowned photographers Frank Hurley, Wolfgang Sievers and Peter Dombrovskis, colonial watercolours and sketches, newspaper cartoons, early black-and-white photographs and bold, colourful tourism posters from the 1930s, 1940s and 1950s.
Author Peter Spearritt developed a taste for exploring Australia on long family car trips from Melbourne to Brisbane in the 1950s and has visited every one of the places in this book. An Emeritus Professor at the University of Queensland and a Fellow of the Academy of Social Sciences, Spearritt takes readers on a unique tour of Australia, revealing along the way a number of historical sites that you can visit today.