Strong Foundations: Evidence informing practice in early childhood education and care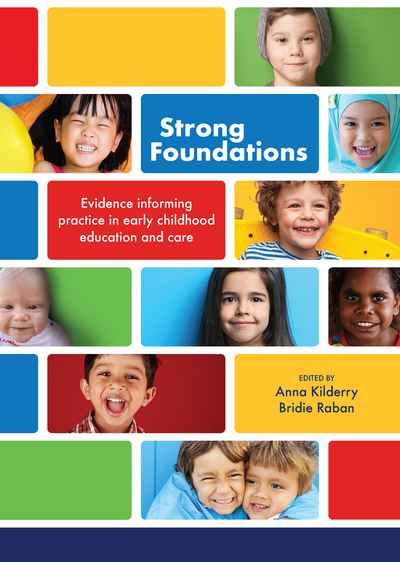 Paperback | Jan 2021 | ACER Press | 9781742865553 | 277pp | 245x176mm | GEN | AUD$119.95, NZD$140.00

Strong Foundations: Evidence informing practice in early childhood education and care celebrates the progress made by the Australian early childhood education and care profession since the implementation of the Early Years Learning Framework.Recognising this progress, Associate Professor Anna Kilderry and Honorary Professor Bridie Raban lead a team of 34 notable contributors from 13 universities and institutions throughout Australia, who focus on the challenges of access, equity and quality that remain across the sector.

With a Foreword by Professor Alison Elliott, Strong Foundationsbrings together knowledge and insights from research in education, health, social care, child safety, science, mathematics and the arts. The critical importance of health, wellbeing and safety in the first five years of children's lives is reflected in a particular focus on supporting positive lifestyle choices, on social and emotional development and on the role that adults play in keeping children safe.
The book addresses policy requirements from the Early Years Learning Framework, the National Quality Standard and Quality Improvement Plans, highlighting links between research and practice, and making connections to the five EYLF Learning Outcomes. With an emphasis on professional practice expectations, Strong Foundations showcases evidence from Australian and international research and provides case studies of early childhood educators applying evidence-informed actions in a wide variety of education and care settings.
Strong Foundations translates high-quality, peer-reviewed research into everyday practice and supports early childhood educators in improving long-term outcomes for children, families and communities.