Vow of Silence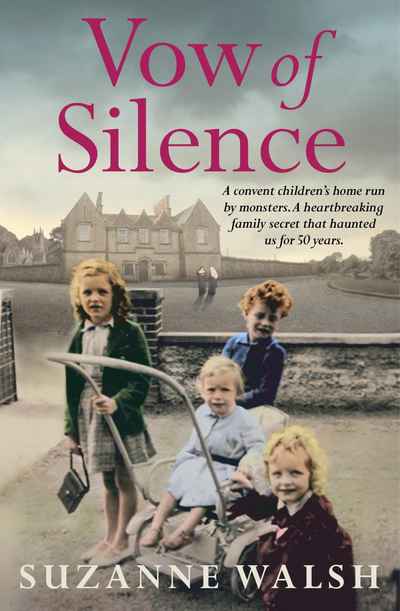 Paperback | Dec 2021 | Mardle | 9781914451034 | 240pp | 198x129mm | GEN | AUD$19.99, NZD$24.99


A convent children's home run by monsters. A heartbreaking family secret that haunted us for 50 years.
Suzanne Walsh was a survivor.  
She suffered five heart attacks and made it through open heart surgery. But even that pales in comparison to the horrors she suffered as a child.  
Her childhood became the 'stuff of nightmares' after Suzanne and her five siblings spent four years in the Catholic orphanages in Dublin, Ireland. She was just 10 when her father passed away and her mother was forced to seek work in London. No-one would rent her rooms with six children in tow, so 'Mammy' made the heartbreaking decision to put them in the church-run orphanages while she worked to pay the mortgage on the small family home.
For Suzanne and her three sisters (her two brothers were sent to a different orphanage) life soon became a daily struggle to avoid beatings with canes and rosemary beads while working from before dawn 'til midnight to earn money for the nuns while living on disgusting scraps of food, while the nuns dined on fresh fruit, meat and cakes the 'orphans' cooked for them. Suzanne quickly became a surrogate mother and tried to shield her younger sisters from the terror of these hateful 'women of God'.
Luckily for Suzanne and her siblings, their mother returned from London after four years with enough money to take them out and the family was reunited. But the siblings never told their mother what happened during their time in the orphanage and she went to her grave not knowing the abuse her children suffered at the hands of the women that were supposed to care for them.  
It took ten years for the Ryan Report to investigate and to reveal extent and effects of abuse on the child victims in the nuns' and priests' care.  Suzanne, who also suffered from Crohn's Disease from the years of malnutrition, was one of those victims and decided to tell her heart-breaking. Shortly after completing her manuscript, Suzanne passed away from cancer in 2018. She left the book to her only daughter Melissa Walsh, with her wishes that one day it would still be published.